For clients who are dissatisfied with their websites but prefer not to start afresh, we can provide a cost-effective site makeover.
Exactly what this entails depends on the site and your needs. It can involve reconsidering all or any of:
Navigation
Load times and accessibility
Content
Design
Search engine friendliness
Economical: a makeover can be more economical than a new site because content/design/functionality remain the same.
Example: Robert Beckett is a successful portrait artist. Although Rob was satisfied with the look of his website, the content was more or less unreadable by seach engines and the link navigation was confusing.
So the site was completely rewritten behind the scenes to enable search engines and users to easily find out what Rob Beckett has to offer. The design differences were barely perceptible.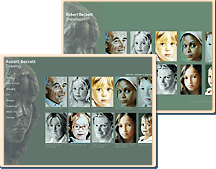 Before and after the website makeover
of Robert Beckett's website